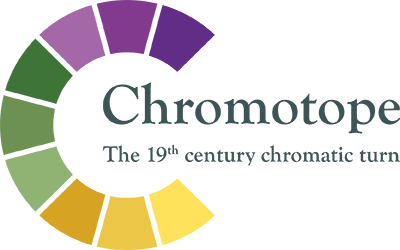 This full time, fixed term post (24 months) will be based at the Conservatoire National des Arts et Métiers in Paris.
In keeping with the scientific objectives of CHROMOTOPE which explores the literary and artistic impact of the 19th century 'chromatic turn' brought about by the invention of aniline dyes, the researcher chosen for this position will investigate the key role played by the CNAM alongside similar institutions, like the Gobelin Dye Works, in the way the new synthetic colours were named, taught and experienced by the actors of the expanding textile industry across Europe. The reception of these new colours in the press and fashion world will also be of interest to the Fellow.
While he/she will primarily work on the documentary archives of the CNAM and the related collections of the Musée des Arts et Métiers, the Fellow will be required to travel to other key institutions in France and abroad for his/her research. He/She will join an existing interdisciplinary team of international researchers with whom he/she will liaise regularly. The candidate will also be expected to communicate his/her results widely to academic and non-academic audiences and co-organise 5 seminar sessions at Sorbonne Université and at the CNAM.