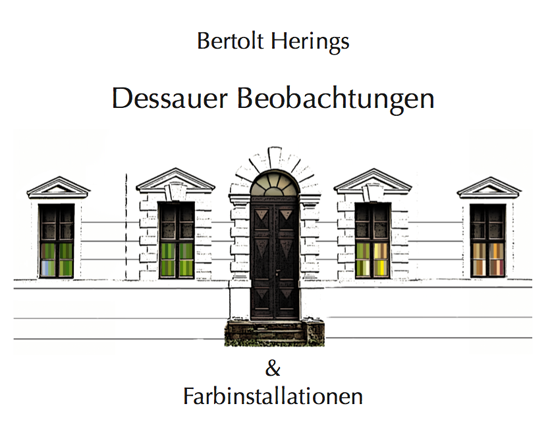 Bertolt Herings Beobachtungen im Dessauer Park Georgium ergeben ein geschlossenes Bild der in den Jahreszeiten wechselnden Farbbeständen und den dazugehörigen menschlichen Farbempfindungen.
Jetzt sind sie unter dem Titel: "The Dessau colour observations – seasonal variations in outdoor colour assignment" in der von Professor Dr. Lindsay MacDonald herausgegebenen Sonderausgabe zum Environmental Colour Design im Volume 19/2017 des Journal of the International Colour Association (JAIC) online erschienen.
Die Original-Ausgabe der Dessauer Beobachtungen ist weiterhin erhältlich in der deutschen Print-Ausgabe (Katalogheft DinA4, 40 Seiten, farbig, Klammerheftbindung, Umschlag lackiert).
Link zu Bertolt Hering Atelier.
Link zum Journal des AIC.
Link direkt zum Artikel von Bertolt Hering (PDF).
Englisches Abstract:
The Dessau colour observations – seasonal variations in outdoor colour assignment
Bertolt Hering
In the Dessau colour observation series, the colours that appear in the changing seasons were described on site at the Georgium Park in Dessau-Roßlau (Germany), according to sensory colour impressions without the use of measuring instruments. The descriptions follow the terminology of the NCS Colour System®©. The colour of the previously described objects and perceived colour areas was visually compared with the colour samples of the NCS Colour System®© and noted. Use of a modified colour atlas allowed direct comparison of the colour patterns with the colours of the Georgium Park.
It was found that the winter colours cause perceptual shifts towards green and blue-green, while the colours in summer shift in perception towards blue and violet. In the transitional seasons (spring and autumn) the colours shift mostly in the direction of blue. The directions of the displacements are never really parallel to each other, but they shift out of centres scattering at different angles. These shifting centres lie mostly in regions of higher chromaticness, radially outward from the stock of currently existing compared colours. Different colour terms go through changes of hue assignment during the year, and these can be derived from the Dessau observations.