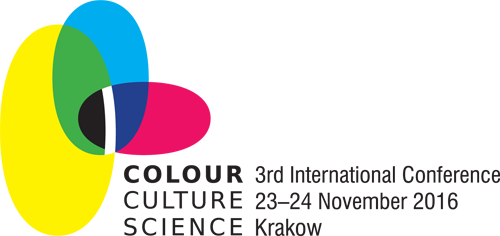 III International Scientific Conference COLOUR-CULTURE-SCIENCE
23rd -24th November 2016
Jan Matejko Academy of Fine Arts in Kraków
Plac Matejki 13, 31-157 Kraków, Poland
On behalf of the organizers we invite you to take part in the third interdisciplinary meeting for designers, scientists and artists in the cycle "Colour Day", titled "Colour-Culture-Science", which is going to take place in Kraków from 23rd to 24th November 2016.

The goal of the organizers is to create a forum to discuss the current state of knowledge, scientific research, artistic and design achievements relating to science and the art of color.

The international scope of the conference will allow an easier global look on these issues and make an exchange of the participants' reflections, observations and experiences possible.

MORE INFORMATION: colourday.pl

 

COLOUR AND ART
aesthetics, colour history, painting, graphic arts, new media
COLOUR AND PSYCHOPHYSIOLOGY OF VISION
colour perception, colour vision, visual illusions, psychological effects of colour, synaesthesia, chromotherapy
COLOUR AND DESIGN
product design, visual communication, fashion, marketing, branding, colour trends, new technologies, food design
COLOUR AND BUILT ENVIRONMENT
architecture, urban planning, interiors, restoration and preservation, landscape architecture and design
COLOUR AND CULTURE
history, cultural heritage, restoration and conservation, linguistics, semantics, philosophy
COLOUR AND EDUCATION
colour didactics, teaching aids, colour systems and categorization, specialist colour courses and workshops
COLOUR AND NEW TECHNOLOGIES
digital measurement and recording techniques, creating colours and reproduction techniques, image processing, computer graphics, digital photography, virtual reality, colour management
COLOUR AND LIGHT
lighting techniques, lighting design, colour illumination, metamerism

The Jan Matejko Academy of Fine Arts, or the Kraków Academy of Fine Arts, is a public institution of higher learning located in downtown Krakow, Poland. It is the oldest Polish fine-arts academy, established in 1818 and granted full autonomy in 1873.

KRAKOW is the second largest and one of the oldest cities of Poland. Situated on the Vistula River in Lesser Poland, the city dates back to the 7th century. Krakow has traditionally been one of the leading centres of Polish academic, cultural, and artistic life and is one of Poland's most important economic hubs. In 1978, Wojtyła was elevated to the papacy as John Paul II, the first non-Italian pope in 455 years. In the same year, UNESCO placed Kraków Old Town on the first-ever list of World Heritage Sites.